Moll wins pole vault gold on busy fourth morning in Cali | REPORT | CMY 22
A thrilling victory in the 4.35m pole vault for Hana Moll along with a series of fast women's 200m and pursuit of the women's heptathlon marked the fourth morning of action at the U20 Cali 22 World Athletics Championships Thursday (4).
USA U20 silver medalist Moll cleared 4.35m on her third attempt to win her first international medal, as the 17-year-old cleared 4.20m on the first request and 4. 30m on the second attempt, before tackling 4.45m once victory was secured.
German duo Chiara Sistermann and Janna Sophie Ohrt won the silver and bronze medals with clearances of 4.30m – the best ever outdoor scores for the pair at 5cm and an impressive 20cm, respectively.
Sistermann, 18, flew over the bar on the third attempt, as did Ohrt, 19, while France's Elise Russis, the 2021 Under-20 silver medalist, was fourth with 4.20m.
Moll's twin sister Amanda, who set an U18 world record at 4.51m and a U20 regional record in March, finished fifth, also with a clearance of 4.20m.
"It feels good. It was a good competition, I had a good time against everyone who was there. The weather was much better than the day before," Hana said, with the final having been moved from Wednesday after- noon due to unfavorable conditions.
"I built confidence in my vault from my first attempts. It was really tough and it really challenged me. I'm really proud of what we (her and Amanda) have achieved this year. "
Brahe-Pedersen tops 200m heats
The stage is now set for a superb three-way battle between the best of Jamaica and the United States in a tantalizing women's 200m, as the qualifying half-laps began at expected speed.
American pair Mia Brahe-Pedersen and Jayla Jamison clocked 23.25 (-0.1m/s) and 23.36 (0.5m/s) respectively to advance to Thursday afternoon's semi-finals , while Jamaican Brianna Lyston recorded 23.56 (-0.3m/s) to ignite it. country.
Brahe-Pedersen – the 18-year-old 100m who finished seventh in Cali – and US champion Jamison are hoping to win the gold and silver medals in Friday afternoon's final, but Lyston, with a superb record lifetime of 22.53 this season, aims to upset their intentions with silverware to it.
Other notable qualifiers include Britain's Sophie Walton, who clocked a personal best 23.40 (-0.1m/s), and Cuba's Yarima L. Garcia, also with a lifetime best of 23, 46 (1.1mm/s). France's Serena Kouassi (23.46, 1.1m/s) and Jamaica's Alana Reid 23.47 (0.0m/s) will be among those joining them.
The women's heptathlon continued on day two with the long jump, as Finland's Saga Vanninen resumed her title defense with a jump of 6.24m (-0.2m/s) to collect 924 points and accumulate a score of 4590.
Saga Vanninen in the long jump of the heptathlon in Cali (© Oscar Munoz Badilla)
The 19-year-old European Under-20 champion leads German duo Sandrina Sprengel and Serina Reidel, who currently sit in the silver and bronze medals with 4,450 and 4,428, respectively.
Sprengel, 18, jumped 6.03m (1.1m/s), while Reidel, 19, recorded a season-best 6.30m (0.0m/s). 17-year-old Estonian Liisa-Maria Lusti jumped 6.24m (-0.3m/s) to climb to fourth place overall with a score of 4420.
The next event was the javelin and Vanninen extended his lead with a superb 46.21m for 787 points which took his score to 5377 against 5162 for Sprengel – the latter throwing 42.33m for 712 points.
Reidel retained the bronze with a personal best 41.47m for 696 points and a score of 5124, while Lusti remained fourth with 4998 as Latvian Gerda Kerija Dreimane finished the morning session fifth. place with a score of 4989.
Impressive starts for Hibbert, Girma and Strachan
Eager to improve on his silver medal from Nairobi, Jaydon Hibbert launched his bid for triple jump glory with a mark of 16.37m (-0.3m/s) topping qualifying ahead of Friday's final afternoon.
The 17-year-old Jamaican tops the world Under-20 list with his lifetime best of 16.66m from earlier this year, and another athlete has topped 16 meters, with 16-year-old Ethan Olivier. from New Zealand who jumped 16.04m (0.7m/s). U20 national record to also affirm his intentions for the final clash.
Seventeen-year-old Selva P. Thirumaran of India jumped 15.99m (-0.4m/s), while Estonian Viktor Morozov recorded a personal best of 15.98m (1. 0m/s).
The Italian Federico Morseletto (15.91 m, -0.4 m/s), the American Solomon Washington (15.85 m, -0.1 m/s) and the Cypriot Grigoris Nikolaou (15.84 m, 1.3 m/s) also earned the highest lifetime ratings. .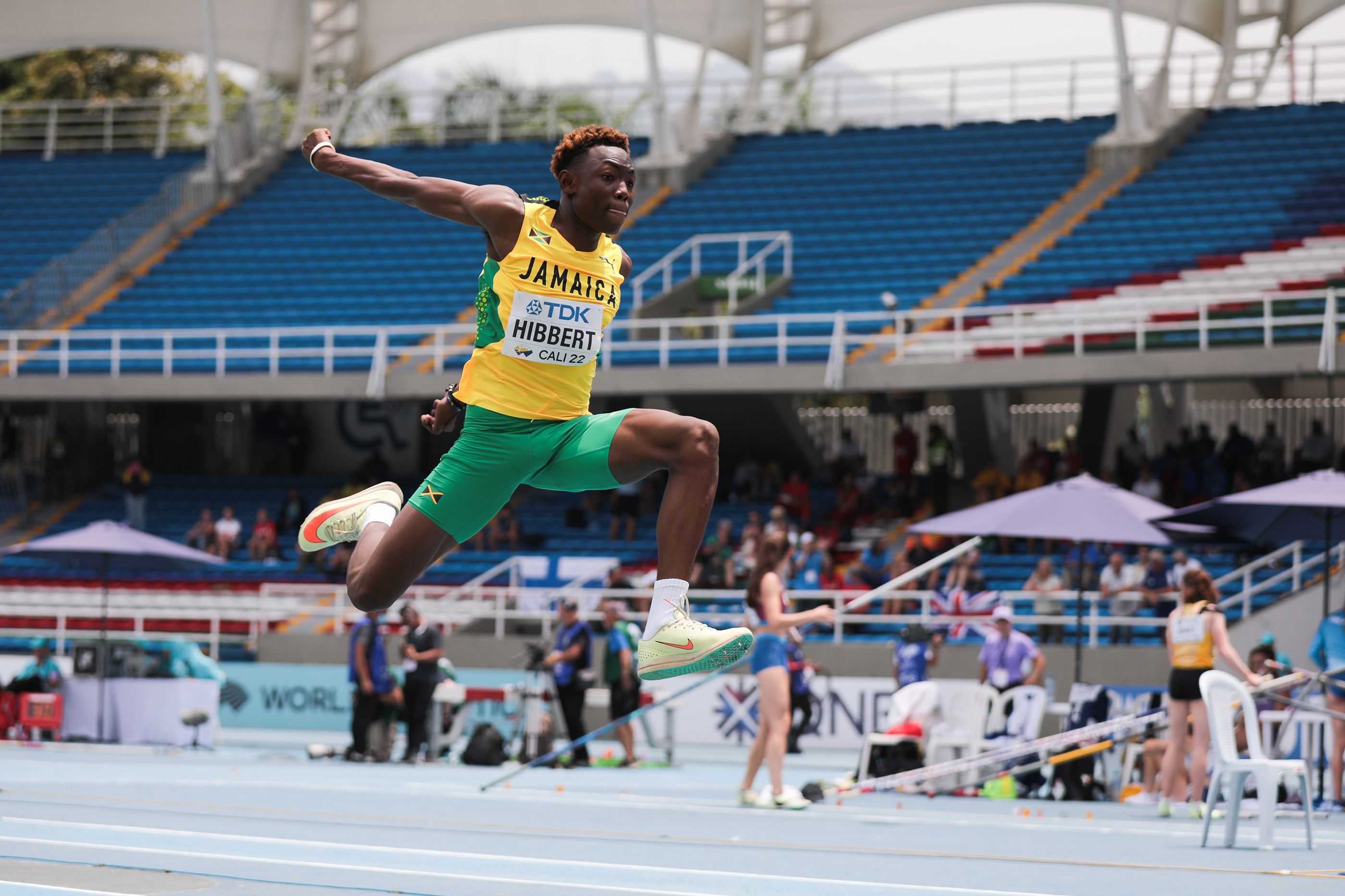 Jaydon Hibbert in triple jump qualification at the U20 Cali 22 World Athletics Championships (© Marta Gorczynska)
After posting an impressive time of 1:44.36 in May, Ethiopia's Ermias Girma began his campaign for the 800m victory with a qualifying time of 1:48.39 for Friday afternoon's semi-finals.
The 17-year-old, who has already won silver in the 1500m in Cali, competed in the Oregon22 World Championships in Athletics series and will be joined in the next round by compatriot Mersimoi Kasahun, 18, who has achieved a time of 1:48.54.
European U20 silver medalist Kacper Lewalski of Poland (1:48.59) will be looking to improve on his sixth-place finish in Nairobi, while others to move forward include Bader Alsweed of Kuwait (1:48.60) and Norway's Ole Jakob Solbu (1:48.78).
Last year's bronze medalist Noah Kibet of Kenya clocked a season-best 1:44.89 in May before reaching the 800m semifinals in Oregon, and he ran easily in 1:51.37 to qualify.
"Yesterday I had pain in my leg, but today I didn't feel anything," Girma said. "It was a bit of a tough race, but I think things will change and start to feel better."
Keyshawn Strachan of the Bahamas threw a 76.87m throw to lead the men's javelin qualifier for Friday afternoon's final. The 18-year-old, who placed seventh in Nairobi, set a national U20 record of 79.89m in April and is eager to win gold in Cali.
However, his closest challenger for victory and the favorite pre-event tag is 18-year-old Artur Felfner of Ukraine, who clocked 75.77m in qualifying.
The Nairobi silver medalist and European Under-20 champion hit the Under-20 world record of 84.32m earlier in the season and leads the over four-metre entries.
Others to progress include German Max Dehning (73.10m) and Hungarian Gyorgy Herczeg (72.63m), as well as Cypriot Eleftherios Kontonikolas (71.20m) and Sri Lankan Rumesh Tharanga Pathirage, who clocked a lifetime best 70.68m to qualify.
Ahead of Sunday afternoon's final, the women's 1500m heats saw a host of comfortable qualifying, led by 18-year-old Kenyan Brenda Chebet with a time of 4:12.20.
Turkey's Dilek Kocak and Japan's Yuya Sawada both eclipsed their lifetime best marks with 4:14.90 and 4:15.29 respectively, while other names to go forward were European U20 champion Norway Ingeborg Ostgard (4:16.36) and Ethiopian duo Birke Haylom and Mebriht Mekonen. .
Haylom, 16, has a personal best of 4:02.25 from May and clocked a time of 4:18.06, while Mekonen, with a best of 4:03.29 to his name, was qualified with 4:18.97.
Nairobi champion and African silver medalist this season, 19-year-old Purity Chepkirui clocked a time of 4:19.94 to start her defense of the metric mile title.
The fastest qualifiers for Friday afternoon's women's 100m hurdles semi-finals were led by Jamaican pair Alexis James and Kerrica Hill.
James, 18, clocked the best time of his life in 13.03 (0.1m/s), while Hill, 17, ran in 13.30 (0.6m/s), the medalist gold in the 4x100m in Nairobi and seventh in the 100m having clocked a fine run of 12.98 to win the national title this summer.
Germany's Hawa Jalloh (13.20, 0.1 m/s), American Jalaysiya Smith (13.42, 0.3 m/s) and Jalloh's teammate Naomi Krebs with a personal best of 13.45 (0.1 m/s) also increased.
Indonesia's Dina Aulia set a U20 national record in 13.44 (0.2 m/s) to progress as well.
Nicola Sutton for World Athletics Championships