ArtCity: Out of the Vault and On to New York
Woodstock Art Gallery sends mystery drawings to Fashion Institute of Technology
Content of the article
ArtCity
All art galleries and museum collections have their mysteries. Each safe contains at least one box hidden in a secluded corner filled with items no one remembers.
Works of art and artefacts in reputable collections usually have a provenance – verified records of who owned them and who donated or sold them to the institution – but more often than not these mysterious objects have made their way into the collections in their infancy, creeping in before there were strictly organized cataloging systems. These objects are sadly devoid of their personal histories and linger for years like nameless orphans amid more established treasures.
That is, until a puzzled staff member stumbles across them and is tasked with figuring out where they belong.
The Woodstock Art Gallery has housed its fair share of mystery items over the years. The gallery even organized an exhibition in the fall of 1996 which associated these objects with new acquisitions. This was when the collection was located in the parsonage next to the Woodstock Public Library on Hunter Street, and only a few years after it ceased to be a division of the library and became its own institution.
The gallery has come a long way since then, now setting up its headquarters in a spacious, refurbished building opposite the Woodstock Museum. Today, the gallery also uses a computer database to closely track every piece of art it stores and exhibits, all for the enjoyment and inspiration of its southwestern Ontario community.
Content of the article
Two mysterious works of art have recently been released from obscurity on an exciting journey to the Fashion Institute of Technology in New York: a pair of 1940s fashion sketches. Composed of sleek, sleek lines and tinted with oil wash In black ink, each image features three fashionable athletic women of the time – rugged shoulder pads and boxy silhouettes inspired by World War II military uniforms, and narrow skirts imposed by wartime cloth rations.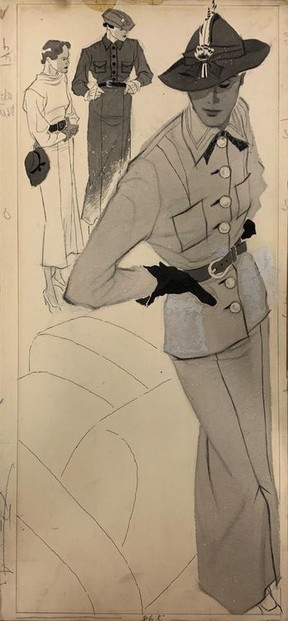 A small handwritten note on the back of an old display label claims they were designed for Filene's, an upscale Boston department store founded in 1881, which was phased out in 2006 after merging with Macy's. This little tag is the only record of the drawings' history, but still doesn't explain how they ended up in Woodstock.
As part of its mandate, the Woodstock Art Gallery favors the collection of works with regional or national ties. For this reason, in addition to the fact that the drawings never officially became part of the collection, it was decided to find a more suitable home. After a short search, the gallery landed on the Fashion Institute of Technology in New York, which accepted them as a donation last March.
Founded in 1944, the institute is part of the State University of New York and focuses on art, design, technology and communication related to the fashion industry. The drawings will form part of the special collections and archives of the institute's college, whose mission, according to its website, is to "foster original research throughout and beyond the (institute's) community by acquiring , preserving and providing universal access to primary research". materials."
Part of the collection has been digitized and uploaded online, making thousands of historic fashion illustrations and photographs available not just to clothing historians, but to any member of the fashion-inquisitive public. This wonderful treasure can be found at sparcdigital.fitnyc.edu.
The Woodstock Art Gallery Collections Database is available online at www.woodstockartgallery.ca.
Reilly Knowles is Curator and Collections Assistant at the Woodstock Art Gallery, who sincerely thanks Canada Summer Jobs for their support of this position.